PRIMAL ZODIAC SIGN OF
SEA STAR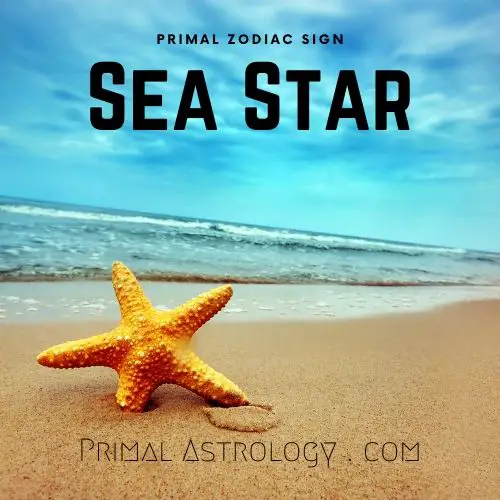 Proud, sensitive, and hard working, those born under the Primal Zodiac sign of the Sea Star are at the same time both very reflective of the past and focused on the future. They are strong willed, perceptive, and extremely intelligent individuals who often spend a lot of time alone with their thoughts. Sea Stars expect more out of themselves than most signs, perhaps even too much.
Nobody likes to make mistakes, but Sea Stars are particularly sensitive to feeling or looking foolish. Since they are very highly analytical they always try to have a logical solution to every situation, but human nature rarely conforms to logic and reason. This can be frustrating and make members of this sign feel as if they don't have a place in the world or people who truly understand them.
Sea Stars are logic-driven, but are also closet romantics. They don't like to take risks, and must always have all of the information before making a decision. Their lives are carefully planned to avoid making mistakes or experiencing failure. Ironically, they are one of the most resilient signs in the Primal Zodiac. Just as their animal namesake can regenerate its body from a single remaining limb, those born under the sign of the Sea Star are much stronger and more resilient than they even know. There is tremendous strength in this sign, yet they sometimes act timid and weak in relationships, which those who care about them find frustrating as this is not their true nature but rather an unnecessary, if not limiting, role they subconsciously play.
Sea Stars often feel like they have to choose between their own beautiful (if not a bit fantastic) vision of life and reality. Understandably, they don't want to compromise. Members of this sign need to accept reality as it is while still trying to change it. This is the only true path to balance. Most will need to build a foundation of stability first, but after this is done, they should be careful about not continuing to focus on achievements and/or regrets; instead focus on enjoying what life has to offer, which always and only takes place "right now".
Born in Virgo during the Year of the Ox, Sea Stars face the challenge of finding a balance between the opposing natures of both signs. Virgo has a strong tendency to look at the past while the Ox tends to look toward the future. If this is the case, then who is living in the moment? Sea Stars must take the time to slow down from chasing their big dreams to simply exist in a peaceful, restful state as their animal namesakes often do.
COMPATIBILITY (LOVE & FRIENDSHIP)
Sea Stars are good friends who care about those close to them. They can be hard to get to know, but once you do you begin to understand what drives them. Friends want what's best for them (as do they), but can find themselves frustrated by Sea Stars tendencies to lock themselves into unhealthy relationships. Friends and family should encourage them to let go and have fun more often. They need reassurance that they do not need to worry so much or try to control everything.
Members of this sign make great parents, providers, and partners, but it will take time for them to find the right relationship. Their true love has to grow organically over time with someone who helps them to break out of their shell (even though they don't think they have one). Will likely, especially in their youth, follow their hearts and emotions toward the excitement of life and romance, which most often leads them toward people who are not good for them, or who otherwise make bad partnerships. With age and self-acceptance this sign will surely find the right person who helps to balance them out.
CAREERS & GOALS
Sea Stars need a career they can sink their teeth into, something that makes them feel alive and useful, and which uses all of their strengths. At the same time, they can easily feel bored and out of place in the wrong career, so trying a few different jobs out (internships, etc) is a good idea. Once they find something they like they are good about sticking with it, and using this career to build a foundation for the future. A lot of time is spent trying to get to the "right place", and Sea Stars won't hesitate to invest a great deal into their future, whether that means traveling to a new city for work, going to an expensive school, or apprenticing for very little immediate gain.
Members of this sign work very hard, and are very resilient; so much so that they often overwork themselves on a regular basis. This is another reason why finding the right career is so important - they are inevitably going to spend a great deal of time and energy involved with whatever they do, so they should be sure to find something that calls to their inner nature and provides a sense of true satisfaction. When Sea Stars become very upset, reason and creativity both shut down completely, making any incorrect line of work feel excessively difficult.
The best career options for this analytical sign include Carpenter, Doctor, or Engineer, as these roles fit well for both sides of their dual nature. Above all things, though, Sea Stars should find a comfortable role where they still have time to enjoy all that life has to offer.
FAMOUS SEA STARS
Nikki Taylor Melton (9/2/1997)
Madeline Zima (9/16/1985)
Jeff Licon (8/29/1985)
Richard Engel (9/16/1973)
Paul Walker (9/12/1973)
Greg Rusedski (9/6/1973)
Rose McGowan (9/5/1973)
Jason David Frank (9/4/1973)
J.D. Fortune (9/1/1973)
Lisa Ling (8/30/1973)
Dave Chappelle (8/24/1973)
Scott Baio (9/22/1961)
James Gandolfini (9/18/1961)
Jennifer Tilly (9/16/1961)
Dan Marino (9/15/1961)
Billy Ray Cyrus (8/25/1961)
Leslie "Twiggy" Lawson (9/19/1949)
Ed Begley, Jr. (9/16/1949)
Gloria Gaynor (9/7/1949)
Tom Watson (9/4/1949)
Richard Gere (8/31/1949)
Gene Simmons (8/25/1949)
Rick Springfield (8/23/1949)
Shelley Long (8/23/1949)
Cüneyt Arkin (9/7/1937)
John Phillip Law (9/7/1937)
Jo Anne Worley (9/6/1937)
B.B. King (9/16/1925)
Mel Torme (9/13/1925)
Dickie Moore (9/12/1925)
Cliff Robertson (9/9/1925)
Peter Sellers (9/8/1925)
Donald O'Connor (8/28/1925)
Jesse Owens (9/12/1913)
Paul "Bear" Bryant (9/11/1913)
Alan Ladd (9/3/1913)
Ben Blue (9/12/1901)
Robert Benchley (9/15/1889)
ZODIAC CALCULATION
Sea Stars have the Tropical Sun sign of Virgo, and are born during the Chinese Zodiac's Year of the Ox.
* * * * *

What's Next?
Your Primal Zodiac sign represents your animal spirit - your instinctive nature, but there is much more to Primal Astrology than this.
The highly accurate Life Path Report breaks down planetary relationships to a depth not found anywhere else. Your Life Path Report includes karmic astrology calculations which take into account past lives, personal and spiritual karma, and key clues to your individual life plan.
Want to know about your future? You can. Primal Astrology offers individualized forecasts, which are thousands of times more accurate than the horoscope you get in the newspaper or elsewhere online. As always, Primal Astrology doesn't just take your Primal Zodiac Sign, but all of your personal astrological details into account when forecasting your future.
If you want to learn more about Primal Astrology, karmic astrology, or astrology in general, there is more information available  by clicking here .