PRIMAL ZODIAC SIGN OF
RACCOON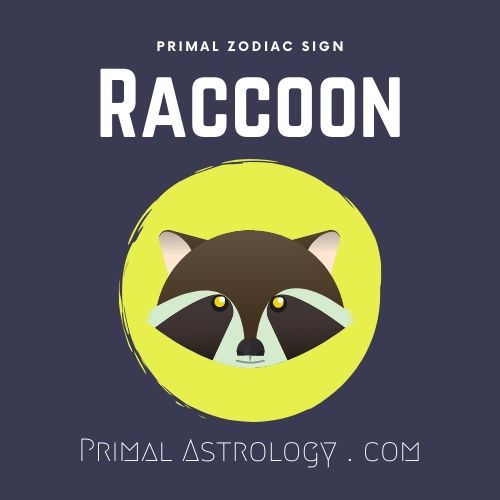 Like their animal namesake, those born under the sign of the Raccoon are smart, adventurous, and determined to get what they want. Bordering on stubborn, a Raccoon will not give up on what it has set its sights on, regardless of the challenge presented. This is a sign that combines natural luck, optimism, and hard work together to achieve great things in life. The irony is that they are also spiritually advanced enough to realize that true success in life means more than money and power. Many Raccoons may live relatively simple but happy lives. What they really want is to achieve the goals that matter to them, to live happily with friends and family, to have some adventure in their lives, and to hopefully make a positive difference in the world.
In the animal kingdom, the raccoon is often portrayed as a thief, scavenger, or pesky opportunist, but this is not a fair portrayal. These creatures merely are willing to do what they need to get by without hesitation or emotional attachment. Similarly those born under the sign of the Raccoon are less concerned with sparing or hurting feelings than they are with doing what they need to do. Unlike some other signs, they don't let their emotions get in the way of moving forward. They don't need to spend a lot of time making decisions; their optimistic attitude keeps them going through good times and bad. In fact, Raccoons are often at their best in crisis or under pressure. Rather than buckling under the weight of a challenge, members of this sign happily rise to the opportunity for a new experience.
COMPATIBILITY (LOVE & FRIENDSHIP)
Raccoons are great friends to have around. They always see the upside and are willing to lend a hand to a friend or family member in need. Raccoons just want to have a good time with little to no drama involved. They don't have much patience for overly emotional individuals or those who crave unnecessary drama in their lives. The Raccoon will tend to hold his or her tongue rather than confront an annoying individual, not because they are afraid to say what they mean, but because they find it a waste of their energy. This is not exactly the sign to talk out your problems with. They tend to be emotionally detached and have a hard time understanding why others wallow in their own emotions so much.
Members of this sign enjoy a certain level of freedom and adventure, but they don't mind frequenting the same places often as long as there is new conversation to be made. Raccoons are just as fine hiking through the streets of a foreign city as they are watching sports with friends at the familiar neighborhood bar. They just want to take it easy and enjoy each moment as it comes and goes.
Many people find themselves attracted to Raccoons simply for their easy-going nature and love of life. In return, Raccoons are attracted to those who offer them a sense of fun and adventure, or challenge and romance. As usual, they don't spend a lot of time contemplating relationships; they go with their guts. More so than their peers, members of this sign tend to find themselves in relationships with those that don't fit their personality well. Raccoons would be wise to take their time finding the right person to settle down with.
CAREERS & GOALS
Whatever career path a Raccoon decides to follow they should be sure that there is some level of adventure in it. Sitting at a desk all day would only fit if the work itself captured their interests. Otherwise, Raccoons are simply not suited for routine work. Their work ethic will keep them showing up, but the boredom of stale, unexciting work will slowly eat away at them, causing them to become restless procrastinators. On the other hand, the work they do doesn't have to be spectacular in nature to be interesting. Many "normal" careers that carry a sense of change day to day are excellent fits for this sign, such as police officer, mechanic, engineer, real estate agent, or doctor.
The one career that Raccoons particularly excel at is in the role of a judge. Raccoons have the ability to detach emotions from logic and also have a genuine desire to see a fair and equitable outcome in difficult situations. The pressure of making tough decisions doesn't bother them as much as it does for other signs, and they can usually find a way for everyone to be happy without anyone feeling cheated. They harness a very rare set of qualities that fit perfectly in difficult roles such as courtroom judge, mediator, or as a leader of people.
FAMOUS RACCOONS
Raven-Symoné (12/10/1985)
Frankie Muniz (12/5/1985)
Amanda Seyfried (12/3/1985)
Kaley Cuoco (11/30/1985)
Lil Fizz (11/26/1985)
Christie Clark (12/13/1973)
Tyra Banks (12/4/1973)
Holly Marie Combs (12/3/1973)
Monica Seles (12/2/1973)
Nick Beggs (12/15/1961)
Kim Delaney (11/29/1961)
Mariel Hemingway (11/22/1961)
Billy Gibbons (12/16/1949)
Don Johnson (12/15/1949)
Teri Garr (12/11/1949)
Tom Waits (12/7/1949)
Jeff Bridges (12/4/1949)
Garry Shandling (11/29/1949)
Alexander Godunov (11/28/1949)
Paul Shaffer (11/28/1949)
Jane Fonda (12/21/1937)
Dick Van Dyke (12/13/1925)
Dina Merrill (12/9/1925)
Sammy Davis, Jr. (12/8/1925)
William F. Buckley, Jr. (11/24/1925)
Johnny Mandel (11/23/1925)
Archie Moore (12/13/1913)
Carlo Ponti (12/11/1913)
Mary Martin (12/1/1913)
Benjamin Britten (11/22/1913)
Margaret Mead (12/16/1901)
Walt Disney (12/5/1901)
Werner Heisenberg (12/5/1901)
Jean Sibelius (12/8/1865)
Bat Masterson (11/24/1853)
ZODIAC CALCULATION
Raccoons have the Tropical Sun sign of Sagittarius, and are born during the Chinese Zodiac's Year of the Ox.
* * * * *

What's Next?
Your Primal Zodiac sign represents your animal spirit - your instinctive nature, but there is much more to Primal Astrology than this.
The highly accurate Life Path Report breaks down planetary relationships to a depth not found anywhere else. Your Life Path Report includes karmic astrology calculations which take into account past lives, personal and spiritual karma, and key clues to your individual life plan.
Want to know about your future? You can. Primal Astrology offers individualized forecasts, which are thousands of times more accurate than the horoscope you get in the newspaper or elsewhere online. As always, Primal Astrology doesn't just take your Primal Zodiac Sign, but all of your personal astrological details into account when forecasting your future.
If you want to learn more about Primal Astrology, karmic astrology, or astrology in general, there is more information available  by clicking here .