PRIMAL ZODIAC SIGN OF
MEERKAT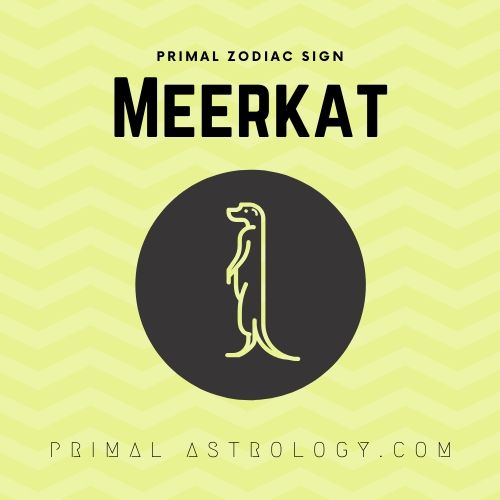 Meerkat is a highly contradictory sign. Members of this sign struggle with different parts of their personality on a regular basis, though those around them will hardly notice. They are simultaneously philanthropic and greedy. They want to be seen as different from everyone else while being accepted by those same people. They are talkative, charming, and funny one day and quietly lost in their own thoughts the next. They are often extremely friendly and likable but can be self-centered and downright aggressive at any time.
Members of the Meerkat sign are always deeply intelligent and perceptive. They can see what everyone else sees, but on deeper levels and multiple layers with ease. It's unlikely that anyone will be able to get anything past a Meerkat without them noticing, though it's equally unlikely that they will let you know if they are onto your game. They are capable of accomplishing just about anything they want to, but they often struggle with knowing exactly what that is.
COMPATIBILITY (LOVE & FRIENDSHIP)
Like their animal namesake, the Meerkat is usually cute and charming and easy to like, but they can also turn on those close to them if they feel threatened. They make friends and enemies easily. People tend to feel very strongly about them one way or another. Members of this sign usually have enough confidence to not mind too much if others don't get them. They know that plenty of people will, and they meet people with tremendous ease. Meerkats usually keep a large group of different friends around, but will limit the size of their group when they feel they are losing control of their social scene.
In love, Meerkats are lucky. They are charming, likable, and confident, which makes it easy to attract potential mates. As long as they keep a reasonable emotional distance, they can find dates easily, which makes settling down seem like something that they can afford to put off for a while. Eventually, though, they will want to start their own family, and when they are finally ready, they will make great spouses and parents. They are always loyal to those who they see as an extension of themselves.
CAREERS & GOALS
Meerkats are born entrepreneurs. They have strong social and leadership skills which, when combined with their inventive imagination and intelligence, make them capable of handling multiple roles at the same time. They have the capacity to be the boss of any company, but they are too restless and unique to be the star in someone else's show. Status is important to them, but more important is doing what intrigues their capable and active minds. Any job where they can shine and be their own boss is ideal for members of this sign. Meerkats who choose adventure over status will still try to reach the top of their chosen field, though that field is more likely to be something like race car driving, stand-up comedy, or fiction writing.
FAMOUS MEERKATS
Deborah Ann Woll (2/17/1985)
David Gallagher (2/9/1985)
Tina Majorino (2/7/1985)
Brandon "Bug" Hall (2/4/1985)
Lee Thompson Young (2/1/1984)
Billie Joe Armstrong (2/17/1972)
Denise Richards (2/17/1972)
Drew Bledsoe (2/14/1972)
George Stephanopoulos (2/10/1961)
Vince Neil (2/8/1961)
Wayne Gretzky (1/26/1961)
Meg Tilly (2/14/1960)
James Spader (2/7/1960)
Greg Louganis (1/29/1960)
John Belushi (1/24/1949)
Steve Perry (1/22/1949)
Tony Iommi (2/19/1948)
Tom Smothers (2/2/1937)
Don Everly (2/1/1937)
Garrett Morris (2/1/1937)
Suzanne Pleshette (1/31/1937)
Boris Spassky (1/30/1937)
Vanessa Redgrave (1/30/1937)
Joseph Wambaugh (1/22/1937)
Dorothy Provine (1/20/1937)
Jim Brown (2/17/1936)
Burt Reynolds (2/11/1936)
David Brenner (2/4/1936)
Alan Alda (1/28/1936)
Troy Donahue (1/27/1936)
Benny Hill (1/21/1925)
Lee Marvin (2/19/1924)
Audrey Meadows (2/8/1924)
Rosa Parks (2/4/1913)
Victor Mature (1/29/1913)
Clark Gable (2/1/1901)
Adlai E. Stevenson, Jr. (2/5/1900)
Huddie "Lead Belly" Ledbetter (1/20/1889)
José Marti (1/28/1853)
Aaron Burr (2/6/1756)
Wolfgang Amadeus Mozart (1/27/1756)
Galileo Galilei (2/15/1564)
ZODIAC CALCULATION
Meerkats have the Sun sign of Aquarius, and are born during the Chinese Zodiac's Year of the Rat.
* * * * *

What's Next?
Your Primal Zodiac sign represents your animal spirit - your instinctive nature, but there is much more to Primal Astrology than this.
The highly accurate Life Path Report breaks down planetary relationships to a depth not found anywhere else. Your Life Path Report includes karmic astrology calculations which take into account past lives, personal and spiritual karma, and key clues to your individual life plan.
Want to know about your future? You can. Primal Astrology offers individualized forecasts, which are thousands of times more accurate than the horoscope you get in the newspaper or elsewhere online. As always, Primal Astrology doesn't just take your Primal Zodiac Sign, but all of your personal astrological details into account when forecasting your future.
If you want to learn more about Primal Astrology, karmic astrology, or astrology in general, there is more information available  by clicking here .