PRIMAL ZODIAC SIGN OF
GIRAFFE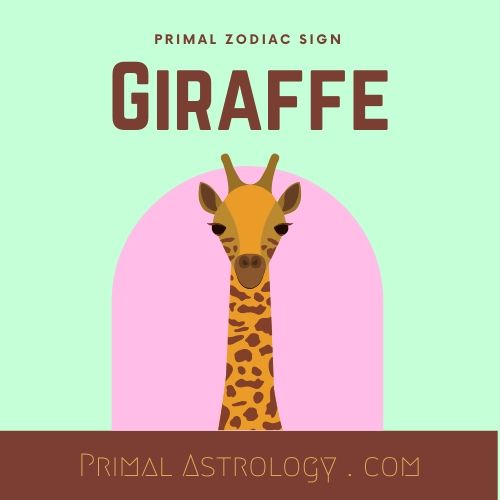 Those born under the Primal Zodiac sign of the Giraffe are unique, vibrant, and surprisingly delicate inside. A combination of the Tropical Sun sign of Virgo and the Chinese Zodiac's sign of the Horse, members of this sign present two sets of personality traits that can be either complementary or contradictory. Virgo keeps the impatient Horse focused while the Horse brings out Virgo's deep-seeded passion. When balanced correctly, these two very different personalities merge into an unstoppable powerhouse, capable of dreaming up and accomplishing the most amazing things. When unbalanced, though, they can easily spiral out of control. At their worst they can be bossy, hyper-critical, and inflexible. Deep down, many Giraffes lack true confidence in themselves and their quest to achieve great things can make them appear to others as self-involved and egotistical.
Giraffes are adventurous. They love to travel, but unlike many other signs, their primary goal is not for rest and relaxation. More than anything, they long for new experiences and believe that these experience help them to evolve. Members of this sign are naturally rebellious. They have a hard time relaxing and letting go without the use of alcohol or other drugs. Most need regular exercise to calm both the body and the mind.
Above all else, those born under this sign are resilient. Though they are somewhat sensitive, they can start over many times and will always be okay. They realize that life is a journey and they treasure each experience that gets them closer to what they want.
COMPATIBILITY (LOVE & FRIENDSHIP)
Giraffes enjoy people and usually have many friends, yet they can seclude themselves for long periods of time while focusing on other goals. It's not unusual for them to go missing from your life for many months or even years, only to return like nothing happened. Giraffes are at their best when they are care-free, but this is fairly rare. They tend to over-analyze relationships and have a bad habit of giving too much unsolicited advice. They can seem pushy to sensitive types, but they are genuinely just trying to help.
Giraffes may have a hard time in long-term relationships. It's not that they are self-absorbed exactly, but they live life as if on an adventure, and settling down doesn't typically suit them. If a long-term partner is going to last with this sign, it will have to be someone who either wants to adventure with the Giraffe, or someone who is okay staying home and taking care of things while the Giraffe comes and goes on their journey. That's not to say Giraffe's lack a home life. Their adventure could be as simple as going to work everyday to tackle some great feat before they return to their families.
CAREERS & GOALS
One thing Giraffe's love to do is work toward their goals. The bigger the project, the more interest they have in it. Mundane or routine tasks tend to bore them, though they typically like to keep things neat and tidy. Giraffes are deeply passionate, hard-working, and love to immerse themselves in a project, talent, or skill. They do well with technology and research, or as an aide or assistant (preferably on a big important project).
Giraffes enjoy nice things, but money is not their greatest motivator. They require mental stimulation and a sense of forward progress. Most of all, though, they need to be interested in what they do. This means each member of this sign will have to follow his or her own intuition to find the perfect career.
That said, there are some jobs that seem to fit this sign better than others. Those include Administrator, Computer Analyst, Engineer, Inventor, Journalist, Librarian, Personal Assistant, Reporter, Information Technologist, and Technician.
FAMOUS GIRAFFES
Kim Yu-Na (9/5/1990)
Benjamin McKenzie (9/12/1978)
Ruben Studdard (9/12/1978)
Devon Sawa (9/7/1978)
Mason Betha (8/27/1978)
Kel Mitchell (8/25/1978)
Julian Casablancas (8/23/1978)
Kobe Bryant (8/23/1978)
Adam Sandler (9/9/1966)
Michael Michele (8/30/1966)
Shari Belafonte (9/22/1954)
Peter Scolari (9/12/1954)
Corbin Bernsen (9/7/1954)
Elvis Costello (8/25/1954)
Bela Karolyi (9/13/1942)
Tom Dreesen (9/11/1942)
Daryl Dragon (8/27/1942)
Mitzi Gaynor (9/4/1930)
Warren Buffett (8/30/1930)
Ben Gazzara (8/28/1930)
Sean Connery (8/25/1930)
Vera Miles (8/23/1930)
Nipsey Russell (9/15/1918)
Paul Harvey (9/4/1918)
Alan Jay Lerner (8/31/1918)
Ted Williams (8/30/1918)
Leonard Bernstein (8/25/1918)
Maria Montessori (8/31/1870)
Roland Hussey Macy (8/30/1822)
Elizabeth Ann Seton (8/28/1774)
ZODIAC CALCULATION
Giraffes have the Tropical Sun sign of Virgo, and are born during the Chinese Zodiac's Year of the Horse.
* * * * *

What's Next?
Your Primal Zodiac sign represents your animal spirit - your instinctive nature, but there is much more to Primal Astrology than this.
The highly accurate Life Path Report breaks down planetary relationships to a depth not found anywhere else. Your Life Path Report includes karmic astrology calculations which take into account past lives, personal and spiritual karma, and key clues to your individual life plan.
Want to know about your future? You can. Primal Astrology offers individualized forecasts, which are thousands of times more accurate than the horoscope you get in the newspaper or elsewhere online. As always, Primal Astrology doesn't just take your Primal Zodiac Sign, but all of your personal astrological details into account when forecasting your future.
If you want to learn more about Primal Astrology, karmic astrology, or astrology in general, there is more information available  by clicking here .