PRIMAL ZODIAC SIGN OF
CHIMPANZEE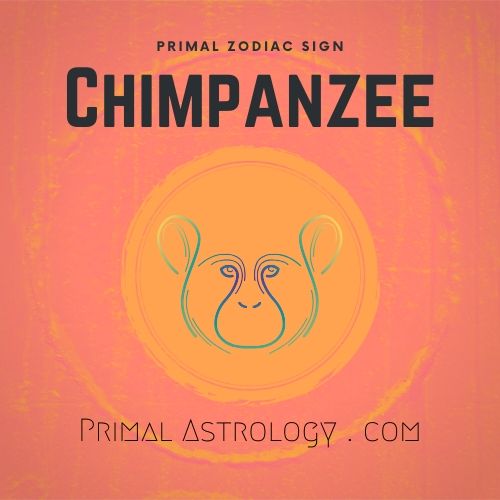 Social, courageous, and unpredictable, those born under the sign of Chimpanzee are always looking for new experiences. This is a passionate but restless sign that relies on their own community or network of acquaintances to help them through life. In return, members of this sign provide charm, wit, passion, and communication to those around them. Their contributions may not be as obvious or straightforward as those of their peers, but when they are gone the community can easily notice the difference.
Chimpanzees are emotional and often guide themselves by their instincts rather than logic. They have little interest in doing things the way that others have done them in the past and are constantly on the lookout for new ideas. Members of this sign have a reputation for being impatient and indecisive. They often spread themselves too thin, trying to take on many tasks at once. This carries over into their social lives where others have a hard time getting their attention on a regular basis. Chimpanzees are always on the move and always looking for their next obsession.
Some may think that members of this sign are self-centered, but it would be more correct to call them self-focused. They make contributions to their environment in subtle ways, and can be very influential among their communities. However, they tend to do everything with a focus on how it can benefit them. Luckily Chimpanzees are fairly idealistic and humanitarian, so what benefits them usually ends up benefiting others as well.
COMPATIBILITY (LOVE & FRIENDSHIP)
Chimpanzees are excellent networkers and are likely to have many acquaintances, both business and personal. They often want their network of "friends" to be as big as possible. This can lead others to feeling used or neglected since it's impossible for Chimpanzees to spend quality time with so many people. Yet Chimpanzees are people who love interacting with people. They love to be out and about and don't mind fame as long as either fortune or admiration come with it. They can be very polarizing figures - some people absolutely adore them and some people can't stand to even hear their names. Either way, it seems that everyone knows who they are and is interested in what they are doing.
Members of this sign have a magnetic quality about them that makes others stop and take notice of them. They are likely to have many suitors who fall for their charms very quickly. Chimpanzees are likely to be heartbreakers. While they enjoy the attention from potential mates, what they really want in life is to be genuinely loved for who they really are. Chimpanzees are very aware of their social status and are one of the most likely signs to change behavior in order to remain on top socially. What they really want is to be loved and accepted while doing exactly what they want when they want to do it. This can make finding partners difficult unless those individuals are willing to take less than their fair share from the relationship. Chimpanzees have to learn to balance their needs with the needs of others if they want a chance at having the life they dream of.
CAREERS & GOALS
As much wild energy as they have, Chimpanzees do surprisingly well when they focus their energy into fictional drama. As writers and musicians they can keenly express the torrent of thoughts going on in their heads. This is a sign that loves the theatrical, which is why many become playwrights and theater or film directors. Chimpanzees do best in leadership roles and love challenges, which is why they are often writer AND director or musician AND songwriter. The primary career challenge for this sign is that they are easily bored and often walk away from half-finished projects to start new ones. Those who can focus themselves long enough to finish what they start can have great success in the arts.
For the less artistic Chimpanzee, a business career can be quite fulfilling. They have the gift of gab and could be great salespeople, but they tend to get too frustrated when they fail to make a sale. Better than this role, they make good bosses and have a natural understanding of customer service. They have everything it takes to start their own businesses except for the follow-through to see it through hard times, which is why many members of this sign choose to open franchises rather than start from scratch. They often prefer partnerships over working solo in order to be able to play to their strengths while others cover for their weaknesses.
It is not unusual for this sign to try out many careers before settling on one. Where they are likely to go is more individualized than with most signs, which is why it is strongly recommended that Chimpanzees have an astrological analysis done, which begins with one's birth chart.
FAMOUS CHIMPANZEES
Mary-Kate and Ashley Olsen (6/13/1986)
Shia LaBeouf (6/11/1986)
Joey Zimmerman (6/10/1986)
Rafael Nadal (6/3/1986)
Joseph Cross (5/28/1986)
Alanis Morissette (6/1/1974)
Cee-Lo Green (5/30/1974)
Lamont "Big L" Coleman (5/30/1974)
Jewel (5/23/1974)
Ken Jennings (5/23/1974)
Fairuza Balk (5/21/1974)
Paula Abdul (6/19/1962)
Ally Sheedy (6/13/1962)
George Noory (6/4/1950)
Suzi Quatro (6/3/1950)
Gregory Harrison (5/31/1950)
Joyce Carol Oates (6/16/1938)
Peter Yarrow (5/31/1938)
Tommy Chong (5/24/1938)
Richard Benjamin (5/22/1938)
Susan Strasberg (5/22/1938)
Paul Lynde (6/13/1926)
Allen Ginsberg (6/3/1926)
Colleen Dewhurst (6/3/1926)
Andy Griffith (6/1/1926)
Marilyn Monroe (6/1/1926)
Miles Davis (5/26/1926)
Bob Wian (6/15/1914)
Frankie Manning (5/26/1914)
Guy Lombardo (6/19/1902)
Stan Laurel (6/16/1890)
Hedda Hopper (6/2/1890)
Isadora Duncan (5/27/1878)
ZODIAC CALCULATION
Chimpanzees have the Tropical Sun sign of Gemini, and are born during the Chinese Zodiac's Year of the Tiger.
* * * * *

What's Next?
Your Primal Zodiac sign represents your animal spirit - your instinctive nature, but there is much more to Primal Astrology than this.
The highly accurate Life Path Report breaks down planetary relationships to a depth not found anywhere else. Your Life Path Report includes karmic astrology calculations which take into account past lives, personal and spiritual karma, and key clues to your individual life plan.
Want to know about your future? You can. Primal Astrology offers individualized forecasts, which are thousands of times more accurate than the horoscope you get in the newspaper or elsewhere online. As always, Primal Astrology doesn't just take your Primal Zodiac Sign, but all of your personal astrological details into account when forecasting your future.
If you want to learn more about Primal Astrology, karmic astrology, or astrology in general, there is more information available  by clicking here .